TERMINATOR SALVATION THE FUTURE BEGINS

BY VIC SAGE

LA SEMILLA (DEL MAL)

Todo comienza en el año 2003, cuando un asesino, MARCUS WRIGHT está a punto de ser condenado a muerte. Una doctora, cuyo nombre es SERENA KOGEN, aparece en la celda de WRIGHT; carece de cabello, producto del cáncer que la aqueja.

El sujeto no quiere saber nada con ella, pero como última voluntad la besa para decirle que así huele la muerte. La doctora comenta que su cuerpo será para fines de investigación de la compañía SKYNET.

Ante varias personas, el sujeto va siendo inyectado, mientras un religioso va dando una bendición.




Click para seguir leyendo...


EN EL FUTURO
Estamos en el 2018
Un escuadrón liderado por JOHN CONNOR se dirige a la base donde está ubicada SKYNET.
Encuentran un pasadizo secreto donde hay infinidad de gente, desde niños hasta ancianos, lo cual reporta al alto mando, pero a éste poco le importa, sólo quiere que destruyan todo.
El ataque sale mal, por lo que solamente JOHN CONNOR queda sobreviviente, no sin antes pelear con unos resistentes TERMINATOR.
Tras esa pelea, comienza a caer la lluvia, mientras el líder de la resistencia grita de impotencia.
En otro lado, en un desierto soleado, el sujeto que supuestamente fue ejecutado aparece caminando, divisándose entre la tierra unas líneas de calles amarillas.
UNA MANERA DE COMBATIRLOS
En el rescate, JOHN CONNOR pide hablar con el alto mando, ubicado en un submarino en las profundidades del mar. Comenta lo que vio en dicha base; quiere efectuar un rescate, pero el nuevo objetivo es evitar que los TERMINATOR eliminen entre diez y doce personas, donde el primero es un tal KYLE REESE y CONNOR el segundo.
Le entregan además una especie de claves para hackear por medio de una señal a las máquinas.
Ya en la base, prueba las señales en una especie de maquina rastrera, la cuál van aumentando un sonido.
Después, comienza a escuchar las cintas que su madre, SARAH CONNOR, grabara cuando lo tenía en el vientre.
Es ahí cuando aparece su mujer KATE (que está embarazada) para darle un poco de calma entre tanta destrucción y él le comenta de la lista, señalando como es prioritario salvar a KYLE REESE.
¿QUÉ DÍA ES, MES Y AÑO?
MARCUS prosigue su camino; pasa por una de las tantas ciudades destruidas, cuando una de las naves TERMINATOR va en su búsqueda. Es ahí cuando un joven con una chica afro lo rescatan. Tanta imprudencia enoja al joven, pero el sujeto, inmutable, pregunta el día, mes y año. Pregunta por qué el mundo está así. Sorprendido, el joven se presenta: su nombre es KYLE REESE, a la vez que le cuenta cómo las máquinas de SKYNET han dominado a la humanidad.
Después de eso, se lo lleva a su refugio. MARCUS al ver una radio inutilizada, se pone a arreglarla, captando justo un mensaje de CONNOR.
REESE quiere ir con la rebelión, pero MARCUS desea ir al norte, por lo que repararán un viejo auto.
Al arreglar un jeep, se activa un pasacassette, por lo que al arrancar, hace aparecer unos pequeños robots, que sólo se fijan en REESE; MARCUS WRIGHT lanza el aparato con que levantan las ruedas (gato en estos lados) y así se dirigen a buscar nafta.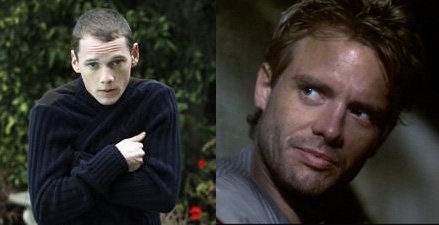 RUMBO AL MATADERO HUMANO
El viejo vehículo necesita combustible, por lo que el empecinado MARCUS WRIGHT para en una estación de servicio. Al ver una botella con un poco de leche, se dan cuenta que hay gente. Son varios hombres liderados por una anciana, quien decide alimenten a la niña (cuyo nombre es STAR)
Uno de los integrantes se queja por que los víveres les pertenecían, pero no dura mucho por que infinidad de TERMINATORS gigantes aparecen.
Asesinan a algunos de los marginales y apresan a otros. Los tres viajeros inician un combate subiendo a una grúa; REESE efectúa unos disparos mientras que WRIGTH tumba parte del robot. Lo malo es que éste, antes de destruirse, expulsa dos MOTOTERMINATOR y una de las naves patrullas consigue apresar a KYLE.
Por la zona, un par de aviones van al rescate, enviados por JOHN CONNOR, sospechando los constantes ataques a la zona.
CÁLIDA COMPAÑÍA
Uno de los aviones es derribado. MARCUS no pudo rescatar a KYLE REESE; queda una piloto que logró eyectar. WRIGHT la ayuda a cortar el paracaídas. El nombre de la joven es BLAIR WILLIAMS. Tras presentarse, lo invita a ir hacia el cuartel de la resistencia. El camino no será del todo tranquilo, se verá el egoísmo humano y el poco valor a su especie cuando intenten robar a la piloto.
ESTE VISITANTE ¿ES NUESTRO AMIGO?
Una vez en la base de la resistencia, la mujer le va indicando que siga con pasos rápidos, pero un dubitativo WRIGHT pisa una mina terrestre la cual le hiere un pie.
Mientras lo están atendiendo en el refugio, la doctora KATE CONNOR descubre que este sujeto es un TERMINATOR.
En una sala, ya apresado el CYBORG tiene el pecho abierto, mostrando el exoesqueleto metálico, mientras recibe disparos de BARNES, el hombre de confianza de CONNOR.
Éste se sorprende ante la consistencia de esta máquina, por lo que irá a buscar alguna información en las cintas que su madre, SARAH, le dejó.
BLAIR decide mentirle a BARNES diciendo que el jefe lo llama, por lo que libera al robot y ambos escapan.
Esta "broma" de la mujer inicia un alerta roja en toda la base, lo cuál convierte al preso y a la soldado en potenciales objetivos a eliminar.
JOHN CONNOR consigue apresar al robot, mientras el ejército hiere a BLAIR (y apresa)
Esquivando robots de defensa, Hombre y Máquina discuten; éste aduce haber visto donde se llevaron a KYLE REESE: a la base de SKYNET.
JOHN CONNOR lo deja ir, con la condición que estará en contacto a la hora de la batalla final. Después de esto, inicia la búsqueda.
QUIÉN TIENE LA ÚLTIMA PALABRA
El objetivo del ALTO MANDO es aniquilar la fábrica, sin importar que mueran niños y mujeres. No les interesa lo que JOHN CONNOR les diga, al punto que le dan de baja en el ejército. Sus hombres ignoran eso.
Pero el resto de la rebelión sí. Su condición de "SALVADOR DE LA HUMANIDAD" puede más, así que decide comunicarse con todos los puntos del planeta para que no despeguen a las cero cuatrocientas horas, debido a que en la base pueden morir miles de inocentes.
Obviamente, su plan da resultados, por lo que irá solo hacia la base de SKYNET.
UN SOLO HOMBRE (TAMBIÉN UNA MÁQUINA) CONTRA EJÉRCITOS DE TERMINATORS
JOHN CONNOR, usando un viejo tema de la banda GUNS N` ROSES, atrae un par de MOTOTERMINATORS y atando un cable entre dos autos volcados, destruye a uno y con esas claves que le dieron en el submarino, re programa a uno y emprende el recorrido hacia SKYNET.
MARCUS WRIGHT se presenta a la base identificándose ante el cerebro central, cuyo rostro es del de la doctora SERENA KOGEN, la cual dice que sabía que un día volvería.
JOHN CONNOR, usando la frecuencia, va hackeando los TERMINATOR y ya dentro de la fábrica comienza a aniquilar a las máquinas. La gente comienza a gritar pero él les dice escapen, mientras va preguntando si entre los presos hay algún KLYE REESE. Éste, desde una celda grita, pero sin ser escuchado. La niña afro (STAR) escapa, pero también va a liberar a su compañero.
MARCUS WRIGHT reprocha por lo que fue convertido (en máquina). Ya tiene su piel restablecida, la mujer intenta tentarlo con que puede ser quien quiera, mientras muestra una imagen de JOHN CONNOR y KYLE REESE.
Tras evacuar a todos los rehenes, CONNOR logra dar con REESE, pero la fábrica de T—800 no se quedará quieta comenzando un combate sin cuartel.
WRIGHT se arranca los chips de su nuca, vuelve a ser humano tomando partido con la RESISTENCIA.
La batalla los llevará hasta el subsuelo de la fábrica, donde un modelo de T—800 no se detendrá ni por que pierda su piel.
El submarino de la resistencia será destruido, por lo que ningún ejército lo acompañó.
Una pequeña unidad de CONNOR va al rescate.
La postura de MARCUS WRIGHT fue de mucha ayuda para un herido del corazón, JOHN CONNOR, que logró hacer salir a REESE y la niña.
Un furioso WRIGHT decide volar la base y contraatacar al robot, para llegar a tiempo al helicóptero.
EPÍLOGO
La vida de JOHN CONNOR se va extinguiendo. Su mujer hace todos los esfuerzos posibles, mientras que KYLE, BLAIR y la niña observan impotentes.
WRIGHT decide entregar su corazón por que comprende que se ha reivindicado de su anterior vida como asesino.
Las palabras que dijera el hombre religioso cuando él era condenado, ahora son dichas por WRIGHT (quién antes se despidió de su casi amor, BLAIR).
JOHN CONNOR sabe que SKYNET no fue destruido del todo. Todavía no están libres, sólo ganaron una de las batallas. Todavía permanecen en guerra y, parafraseando a su madre, señala que "NO HAY DESTINO" pero deben escribirlo.
VALORACIÓN FINAL
Una nueva refundación de viejas franquicias, y así como STAR TREK, el resultado es más que favorable.
Fiel a la tradición, en esta cinta se destruyen camiones como en las otras películas de la saga.
El tema con que JOHN CONNOR atrae al MOTOTERMINATOR fue la melodía central de TERMINATOR 2 JUDGMENT DAY.
Al fin en la saga pudimos ver helicópteros, algo de participación casi nula en las partes anteriores, y siguiendo con este vehículo, varias de las escenas, sobre todo la que cierra la película, sin duda se asemeja a APOCALIPSIS NOW.
Cuando JOHN CONNOR sostiene la foto de su madre, SARAH CONNOR, me conmoví al ver a ¡LINDA HAMILTON! Igual que escuchar las cintas: ver esto, lo hace una secuela en serio.
Siguiendo con detalles "ochentosos", quien era el capitán del submarino, es MICHAEL IRONSIDE, que actuó en V INVASIÓN EXTRATERRESTRE haciendo de mercenario que ayudaba a la RESISTENCIA contra los aliens; justamente acá dirige una RESISTENCIA.
La chica afro que acompañaba a KYLE REESE, es niña, pero al crecer ¿será la protagonista de un hipotético proyecto siempre en el aire (que existe en comic y video game), llamado ROBOCOP VS TERMINATOR? (justamente está al caer el remake del POLICÍA DE DETROIT)
Sobre KYLE REESE, el actor cuyo nombre es ANTON YELCHIN, no olvidará este 2009: primero fue PAVEL CHEKOV en STAR TREK THE FUTURE BEGINS y ahora es nada más ni nada menos que el padre de JOHN CONNOR.
Muy interesante haber visto nuevas máquinas como el gigante robot que expulsaba los MOTOTERMINATOR.
Un detalle más que remite a los años 80`, la máquina central de SKYNET que muestra la cara de la Doctora, siempre que se vea un rostro en una pantalla, irremediablemente remite a MAX HEADROOM.
Una vez más CHRISTIAN BALE demuestra como puede cambiar con tanta facilidad de papel; aprendan carilindos de HOLLYWOOD.
El modelo de T—800 con el que pelearon era una versión digital de "EL TERMINATOR", ARNOLD SCHWARZENEGGER. Hubiera sido bueno verlo actuar, pero hoy se dedica a la política…
Ya estoy esperando una secuela; seguramente será el momento de dar un rumbo que todavía desconocemos: la batalla final, otros prototipos de máquinas, viajes en el tiempo y ¿habrá lugar para ver otra vez el T—1000?, sería muy interesante.
El camino por el que va WRIGHT, hace recordar el final de la segunda película mientras SARAH CONNOR iba hablando.
Hay escenas similares a los otros capítulos, no sólo es homenaje, siempre se dice que el tiempo es cíclico…
FUENTES CONSULTADAS
• http://www.blogdecine.com/otros/terminator-salvation-aqui-tenemos-al-sucesor-de-arnold-schwarzenegger
• http://images.rottentomatoes.com/images/movie/gallery/1197277/photo_58_hires.jpg
• http://blogimgs23.fc2.com/h/e/a/heartattack507/08111202_Terminator_Salvation_02_Moto_Terminator.jpg
• http://screenrant.com/trifecta-awesome-terminator-salvation-tv-spots-rob-7029/
• http://www.rottentomatoes.com/m/terminator_salvation/pictures/7.php
• http://www.imdb.com/title/tt0438488/fullcredits#cast
• http://images.google.com.ar/imgres?imgurl=http://media.movieweb.com/img/1/n/r/PHkCQtooAIc1nr_m.jpg&imgrefurl=http://www.movieweb.com/news/NEjkCrmqaeC4mj&usg=__sKzUyFSxXIbzDhFbk5saR26jNSg=&h=608&w=450&sz=78&hl=es&start=15&um=1&tbnid=xgBVcd6Z7GCgiM:&tbnh=136&tbnw=101&prev=/images%3Fq%3Dterminator%2Bsalvation%26hl%3Des%26sa%3DN%26um%3D1
• http://www.traileraddict.com/poster/terminator-salvation
• http://muldercomics.blogspot.com/2008/12/terminator-sarah-connor-chronicles.html
Sugerencias, pedidos y demás a thequestionar@gmail.com
Unos videos de apoyo
Algo de Humor con Terminator
Fragmentos de la Pelicula