Batman # 694
"Life After Death Part 3"

Guion : Tony Daniel;
Arte de Tony Daniel y Sandu Florea;
Portada de: Tony Daniel
Life alter Death Parte 3 en el tercer numero de la nueva saga de Batman, que escribe Tony Daniel, quien ya ha demostrado de sobra que es un buen dibujante, pero en cierto modo sufre del síndrome de McFarlane, por que la opinión general es que sus dibujos son buenos , pero sus guiones simplones.

Daniel sigue entregando,una muy buena dosis de dibujos, en este numero, donde los hilos que se van desarrollando, se mantienen a base de la acción, bajo los mismo términos de los números anteriores, donde a pesar de lo interesante que se venia mostrando, aquí parece bajar la marcha de la historia, y lo hace que destaque sobre las otras series que nadan en el océano de los comics de Batman y sus allegados, ya que lo intrincado de la historia, hace que Daniel, trate de encontrar conexiones con su anterior arco BOTC,, y que podríamos definir de la siguiente forma, la familia Falcone, tiene problemas serios, con Black Mask II y su combo de la muerte, y de hecho hay cosas que no se explican aun como el acertijo de saber que paso con Nygma, después de la explosión en el numero anterior, donde al parecer regresaba a su identidad villanesca seguían los mismos tiros sobre la identidad de BM y a la joven y prometedora Kitrina, (Su nombre de Batalla es Kittyhawk), no parece tener buenos augurios, sobre su futuro (será la mano en la caja del Teaser de BOTC?", no sabemos, mientras algo sucede en las instalaciones de Genecore, dentro de Arkham, con la repentina muerte de los asistentes del Dr. Sighn, ante la presencia del que debe estar tramando algo "Hush" quien podría ser o no BM, lo cierto es que este se esta rodeando de enemigos poderosos, los cuales han sido rescatados por Daniel de diversas épocas del Hombre murciélago, Brucie, el primero de ellos , es el Dr. Hugo Strange, uno de los enemigos mas clásicos de Batman de la edad de plata, y quien por cierto noto que esta vestido muy similar a como se viste BM, una pista falsa, un detalle , quien podría saberlo, y uno de los villanos que hace tiempo queríamos ver enfrentándose de nuevo a Bats, se le vio por primera vez en Detective Comics #36 (Febrero de 1940)

El siguiente es El Dr. Death, otrora enemigo del Batman de la Edad de Oro, el Dr. Karl Hellfern es un clásico científico loco que salio en Detective comics #29 (Julio 1939) y a quien se le considera uno de los primeros supervillanos de Batman, el Doctor Death, es un experto en crear gases letales y armas químicas.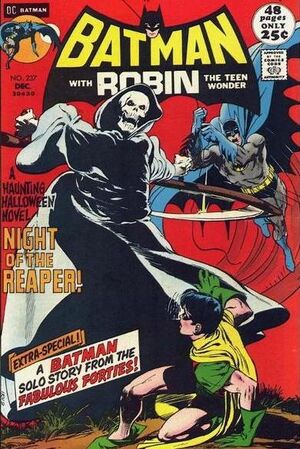 Y por ultimo nos referimos un poco mas extendidamente, al Reaper, del cual quiero comentar con mas calma, ya que ha habido muchos villanos que han usado este mismo nombre y quizás los nuevos lectores, no le identifiquen bien, este Reaper, si se quiere es el original pre-crisis, cuya identidad es la del Dr, Gruener, un judío que ayuda, supuestamente a Batman a cazar un criminal de guerra creado por la mente de Dennis O´Neall para Batman # 237, bajo el titulo de "la noche del Segador" quien se revela como asesino, cuando bajo la identidad de "The Reaper asesina al Criminal de guerra", en un numero que contiene varios guiños a la competencia, y que termina con la supuesta muerte del malo, pero Según Daniel, este se encontraba en animación suspendida, y BM, lo trae de vuelta obligándole a servirle, ya que posee el suero que le da vida al criminal., bueno además es bueno recordar que han existido otros criminales con el mismo nombre como The Reaper, (Jolson Caspian) en Tec # 573 de 1987, este era un ciudadano normal, quien al perder a su esposa en un asalto, se convierte en un violento vigilante, en la década de los 50´s, volviendo una vez mas en Batman Year 2, para enfrentarse de nuevo a Batman, el otro Reaper, que vio la luz en 1991, en una secuela de esta historia de nombre "Batman Full Circle" y donde el hijo de Joe Chill, usaba la identidad de The Reaper, para intentar volver a loco a Batman, (será que nunca han aprendido que ya esta loco)


Volviendo al numero Daniel, nos muestra algunos distopicos elementos, como la relación entre Helena, Dick y Babs, o la forma como le da su tratamiento al señor Coblepott, quien por cierto la pasa muy mal en este numero, al punto de quedar la duda si salio con vida del mismo, en unas escenas de acción que Daniel, saca adelante, muy bien, en una buenas splash pages.


Pero lo que mas me aturdió de este numero fue el final que me pareció, fuera de foco totalmente, ya que nos muestra el talento de Daniel en un bonito Pin up que no dice, nada, y que realmente, aquí no funciona, bien, por no hablar del nuevo diseño del traje de Huntress, que se parece mucho a uno que dibujara, unas semanas atrás Cully Hammer, o la detectivesca aptitud que le vemos a Damián, si yo hasta creía que era Tim.
Por no decir nada de la aptitud de Dick ante el "Baby D", la verdad esperaba mas de este numero y no llego.

La historia en cuestión podrá ser entretenida, pero baja un poco el ritmo, que traía esta serie que con esto languidece, un poco ante el Comic de Batman de Morrison, que no es una maravilla, tampoco, ante las expectativas que traemos de los dos números anteriores…
Portada de Batman # 695 de Tony Daniel
¿Y Tu Ya Leiste Un Comic El dia de Hoy ?
Muldercomics, Recomienda A www.Mekano Turbo.com