38.000 b.c. Un hombre que sería conocido como el Dr. Gotham, es puesto en suspensión animada, en el lugar que siglos más tarde daría lugar a Gotham City.

(Hechos Ocurridos en Shadowpact # 5)

Alguna fecha del Paleolítico, en los tiempos finales de Anthro el primer joven sobre la tierra, un sin memoria Bruce Wayne, víctima de la Sanción Omega, se enfrenta al villano inmortal Vandal Savage, y lo vence usando la piel de un murciélago gigante, creando por ende el mito de la Gente del Murciélago, y el origen de la llamada Tribu Miagani y del nombre de "Man On Bats".

(Hechos ocurridos en ""El Regreso de Bruce Wayne # 01")
Mucho tiempo antes de que se sembrara la primera piedra de lo que sería ciudad gótica, , en la legendaria Camelot, un demonio llamado Barbathos,, es exiliado por mano de la hechicera Morgana Le Fay, aunque este huye a América en un Murciélago gigante, llevándose consigo la mística piedra de Aelk, donde la misma queda en el cuello del quiróptero gigantesco, pero la alegría de Barbathos, no le dura mucho tiempo, ya que Los Shamanes de las Tribus habitantes del sector, lo envían de nuevo a los abismos donde pertenece.
Mientras tanto en Inglaterra, un demonio medio hermano de Merlín "Etrigan", toma la forma humana de Jasón Blood, un Humano inmortal, se dedico a darle caza a Barbatos para recuperar la Piedra mágica de Aelk

(Teoría basada en los Hechos ocurridos en "Swamp Thing # 87 V2")

La Tribu de Los Miagani, que viera su origen en The Return Of Bruce Wayne # 01, habitan en la región que más tarde seria Ciudad Gótica, pero a raíz de los eventos que tuvieron que ver con el Shaman Blackfire, la misma desaparece sin dejar rastros, luego de que el mismo asesinare al Jefe Paleface, no se sabe aun la razón de dicha desaparición, se rumora la intervención del Demonio en la misma, pero no existen pruebas algunas, para el momento de la llegada del Explorador ingles, Henry Hudson, años más tarde los colonos holandeses, llegan al lugar, donde se sorprenden de no encontrar indígenas en la región y fundan dos colonias, una de ellas en la tierra de los desaparecidos, Indios Miagani, y sucesos funestos ocurren en el lugar luego de que estos encontraron la aparente tumba de Blackfire

(Hechos ocurridos en "Batman The Cult # 1")

Un Anabaptista, llamado Mordecai, aparece por la región y se convierte en leyenda al eliminar a un monstruo lovetcraftiano, que azotaba la región sembrando el terror. Un escocés, que se mencionara en la saga "Batman en Escocia" Nathaniel Wayne, es maldecido hasta el fin de los días, por una supuesta hechicera, al servicio de unos dioses misteriosos que podrían ser los Sheeda, que se vieran en la saga de los 7 Soldiers.

Mordecai, quien no es otro que Bruce Wayne que continúa con su periplo, por causa de la Sanción Omega, le entrega un libro a un dibujante holandés Martín Van Derm, dicho libro, es visto en manos de los 99 fiends, en la serie de Batman y Robín recientemente con alguna relación con Barbatos, y aun nadie sabe que contiene dicho libro

(Hechos ocurridos en ""El Regreso de Bruce Wayne # 02" y Batman Vs Robín # 12)

1602, se funda la primera ciudad, en el lugar que años más tarde se convertiría en Gotham, por el Capitán sueco John Lindequist, de origen sueco, quien nombra a la ciudad como Fort Adolphs, por el gran general sueco Gustavus Adolph

(Según el Atlas del Universo DC de 1990)

1672, El Papa Clemente X, nombra la primera iglesia de Fort Adolph, que años más tarde seria Gotham City
(Detective comics Anual # 11)

1674 Fort Adolphus es cedido al gobierno ingles, y es nombrado Adam Howe, como primer gobernador, quien la renombra como Gotham City

(Según el Atlas del Universo DC de 1990)
Según la Wikipedia ,
Wayne Corps
, es fundada en el siglo 17 como una casa mercantil

A mediados del siglo 17 un circulo de humanos creyentes de las artes ocultas, invocan al demonio Barbathos, luego de largo tiempo preparando la ceremonia del murciélago entre el grupo se encontraban Thomas Jefferson,, Jacob Manfurd, Henry Queen, Bartly Hangstom Jacon Ackerman y Thomas Wayne, los que intentaron asesinar a una joven de nombre Dominique, ( ella dice que le recuerda conocerlo, de donde, no sabemos a menos que Morrison use parte de este arco como desarrollo para su guion en curso) pero la aparición de un murciélago gigante, hace que estos corran como viejas, según palabras del mismo Stockman en sus memorias y dejan la ceremonia a medias sin que el demonio, pudiera tomar forma física, dejándolo atrapado en el sótano de la granja Stockman, y al crecer la ciudad sobre el mismo se convierte en el espíritu de Gotham, que crece a su sombra, se cree que estos rituales fueron los que le dieron origen a la creación del espíritu vivo de América que le da poder a héroes como Minute Man, Brother John o más recientemente al Uncle Sam de los Freedom Fighters

(Hechos Ocurridos en Batman # 452 al 454, "Dark Knight Dark City")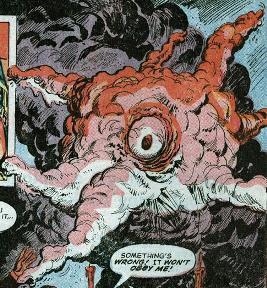 De los que participaron en la ceremonia, 4 de ellos entre los que se incluía a Thomas Wayne, fueron utilizados por Ludwig Prinn, un creyente de las artes ocultas y escritor del Vermis Mysteriis, este convence a los 4 de que se unan a el para que a cambio recibieran poder e inmortalidad, estos falsifican sus muertes y asumen otras identidades, Wayne, tiene un hijo de nombre Darius, quien hereda sus propiedades

(Teoría inspirada en "The Shambler from the Stars" – una historia corta de Robert Bloch, cuyo monstruo se parece mucho al que derrota Wayne en TROBW • 02)
En 1760, aunque no concuerde con las fechas de Dark City, un adorador del Mal de nombre Thomas Wayne, despiertan al antiguo Dios de los Magani, y sucesos terribles ocurren en la zona, se rumora que el mismo consiguió la inmortalidad

(Hechos ocurridos en Batman y Robin # 10)

Por su parte Jasón Blood, continúa la búsqueda de la Piedra de Aelk, llegando a Gotham en 1799, durante la guerra de la revolución, y en esa época Darius Wayne, salva a las fuerzas rebeldes de una masacre y los ingleses lo quieren colgar por traidor, pero el mismo es rescatado, por las fuerzas opositoras, mas tarde cuando las mismas triunfan y la ciudad es liberada, le son otorgados unos terrenos al sur de la ciudad en recompensa por su heroísmo.

Allí este empieza la construcción de lo que sería la Mansión Wayne, aunque no logra habitarla, en estos tiempos un viajero del tiempo, la entidad conocida como Swamp Thing, llega a la región, de Gotham, donde es testigo del enfrentamiento de un héroe conocido como Tomahawk, se enfrenta con un maloso, espía ingles Lord Shilling, quien intenta apoderarse de la Piedra de aelk, pero luego de una lucha cruenta, en las cuevas donde años más tarde estaría la baticueva, allí estos ven la aparición de un murciélago gigante, que lleva en su cuello la piedra y en la lucha Shilling, fusiona su mano con la joya de ámbar, y da inicio al artilugio mágico conocido como la Garra de Aelkhound, Tomahawk, quien no quedo muy contento con los sucesos acaecidos en la ciudad abandona la misma en compañía de su amor indio Moon Fawn
.
(Hechos ocurridos en "Swamp Thing # 86 V2 1989")

Luego de Estos hechos, Darius cae en la Quiebra, y abandona la mansión, hasta que dos de sus descendientes, la adquieren, se trata de Joshua Wayne y de Salomon Wayne, nietos de Darius. Estos la usan para unirse al ferrocarril subterráneo (mismo que existió realmente entre 1810 y 1850. Y según algunos reportes mas de 100 mil personas lograron escapar por esta via, aunque los censos oficiales no dieron más de 6 mil según la Wikipedia) que ayudaba a los esclavos a huir libres al Canadá, estos hermanos usaban las cuevas debajo de la mansión para esconder a los prisioneros, pero según la historia Joshua Wayne fue mortalmente herido y huyo antes de que pudieran encontrar su cadáver, que apareció años mas tarde en la Mansión Wayne

(Hechos ocurridos en "Shadow Of The Bat # 45 gracias a Lichu por el dato")

Hasta el sol de hoy según la historia de ciudad gótica, algunos hechos importantes ocurren pero lo haremos saber a medida que marche el tiempo, mientras tanto esperaremos el próximo número de Batman: el Regreso de Bruce Wayne

Todas estas teorías pueden tener base en los hechos que refieren al Demonio conocido como barbatos, cuyo origen no se lo veo muy relacionado con Wayne. Como figura, principal, de hecho la traducción al latín de dicho nombre nos da la palabra Barbado, y si miran la portada de Wayne Pirata, lo vemos luciendo una frondosa barba, casualidad o causalidad, ya sabremos, cuando salga

A ver si les gustan estas teorías
¿Y Tu Ya Leiste Un Comic El dia de Hoy ?
Muldercomics, Recomienda A www.Mekano Turbo.com