Se ha producido el estreno de la Serie de TV The Walking Dead, misma que toma los elementos de la serie de comics creada por Robert Kirkman y Tony Moore y la verdad la serie se nota que cuenta con una buena producción y unos agradecidos efectos especiales, que no envidiarían a cualquier clásica película de Zombis de Siempre, en esta serie de Tv que retrata el horror de la serie de comics y las tribulaciones de los sobrevivientes del horror Zombi

De entrada podría decir que es una de las mejores adaptaciones que haya recibido comic alguno en su paso a la pequeña pantalla, y que estaba esperando poder ver desde que se anuncio hace algún tiempo ya que se vería algo asi en la tele
La idea de un Mundo Tan Zombizarro se nota que paga tributo a todas esas viejas películas clásicas de muertos que caminan a las cuales se han enfrentado desde Kolchak hasta los protagonistas de Resident Evil o el mismísimo Santo o en esas joyas de humor y terror como el Regreso de Los Muertos vivientes "Sesos Sesos… impagable frase"
Ya puedo decir que los lunes serán lunes de Zombis, ya que amen de los protagonistas entre los productores se encuentra Gale Ann Hurd(The Terminator, Aliens,Punisher War Zone, The Incredible Hulk) y El Mero Frank Darabont,(sueños de fuga, El joven Indiana Jones) por lo que hay calidad en ese renglón, además del mismo Kirkman supervisando los guiones de la misma, pues es una nueva adicción , y una nueva puesta en escena de los queridos comecerebros, desde joyas cutres como Zombi Stripper o Zombieland.

La serie nos lleva al igual que el comic al despertar en el infierno que tiene el sheriff Rick Grimes, cuando luego de quedar herido en un tiroteo se despierta en un hospital, (escena calcadita de 28 Days Later )para darse cuenta que el mundo se ha ido al cuerno y que las criaturas pellejudas abundan por doquier buscando carne que comer y para su terror más profundo deberá intentar sobrevivir mientras busca a su familia e intenta huir del desastre Que Kirkman nos ha dado en el comic el cual como si fuera un zombi te muerde con sensación de eterna maldición en forma de viñetas, ofreciendo un mundo de horror y tragedia en un sádico planeta donde su protagonista deberá sobrevivir a los zombis si no luchar contra la oscuridad que alberga el alma humana en este Thriller Terrorífico
En la serie de TV Vemos a Rick Grimes,( Andrew Lincoln) Shane su ex compañero (Que desea en secreto a la esposa de este), su mujer Lori, su hijo Carl, y un montón de sobrevivientes que no han tenido la suerte más feliz dentro del mundo que les ha tocado vivir donde no importa que tan cruentos puedan ser los ataques de los zombis, los que aportan la tragedia más que todos ellos juntos son los humanos, así que podrán los sobrevivientes salir con vida o se destruirán ellos mismo primero

Los Muertos que caminan han llegado así que ve cargando la escopeta y llena las alacenas y vigila las puertas que podrían estar en la calle, ya el terror de esta historia funciona dentro del caos zombi, que ha llevado al mundo a ser una poceta tapada cuyo desagüe hay que bajar y rezar si es que crees en Dios porque haya una noche mas, ahora lo lunes en la noche son noche de survival horror

Otras Series de Zombis Que nos Gustarían Llegaran a la TV

Estas son algunas series con Zombis que nos gustaría ver en la pequeña pantalla
Marvel Zombies

El universo Marvel convertido en comedores de cerebros podrán los héroes salvar el día o terminaran en la barriga de Hulk,o ver a Spiderman comerse a Mary Jane, superhéroes y muertos vivientes, también de la mano de Kirkman, Beat Me Up Zombiscotty
"I, Zombie"

Chris Robertson y Mike Allred's nos dan un mundo donde las historias de Detectives y Los Zombis van de la mano en una historia rompedora e intensa además de tener mezclas de Historias de vampiros, Fantasmas y demás en esta joya de Vértigo "Be my zombicht"
"Mort the Dead Teenager"

Esta asombrosa historia de un zombi adolescente escrita por Larry Hama, lleva mucho tiempo tratando de tener una adaptación a algún genero, e incluso gente como Spielberg o Tarantino han mostrado interés en la misma, La gente de Marvel intento adaptarla con Jessica Simpson y elijan Wood, pero pudo más el interés en las películas de sus superhéroes, y ahora con Disney al control no extrañaría ver una edición con Zac Efron para toda la familia

"Zombies vs. Robots"

Con Zombis y robots que más importa, su creador Ashley wood y Chris Ryall, crearon un titulo con ciencia ficción y toques de terror en esta historia de científicos viajeros del tiempo, que cuenta con el humor de cosas como Shaun of the Dead, la historia tiene su secuela Zombies vs. Robots vs. Amazons, desde ya la estamos pidiendo a gritos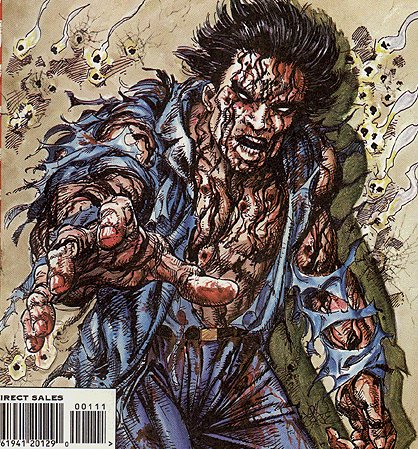 "Xombi"

David Kim, se inyecta con una formula experimental que le convierte en un Xombi, el que fuera personaje de Milestone, se ha integrado al nuevo universo DC en una historia de The Brave And the bold. Y se rumora que saldrá una nueva serie del personaje, no sería ni mala la idea la del Xombi superheroico

"Blackest Night"

El éxito de DC "Blackest Nigth" luce más que perfecta para ser llevada a cualquier serie de TV o incluso película ya sea animada o no, como excusa para ver a los héroes y villanos convertidos en zombis asesinos y crueles y con la película de Green Lantern sonando no sería ni tan mala idea y además podríamos ver al panteón DC al completo para que mas
¿Y Tu Ya Leiste Un Comic El dia de Hoy ?
Muldercomics, Recomienda Etnica Antologia De Historieta Latinoamericana